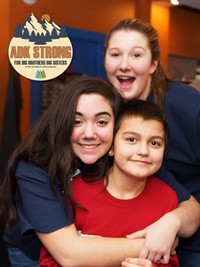 Join us for a night of virtual comedy and trivia for a great cause – you might even win a FREE Case of Wine! (Must join our Zoom Meeting to be entered! Read more below.)
The Adirondack Wine & Food Festival, along with Adirondack Winery, are hosting a Virtual Comedy & Trivia Night on Friday, May 1th from 7-8:30pm to benefit our friends at Big Brothers Big Sisters of the Southern Adirondacks, who need our support now more than ever before!
Starring Jackie Donovan, ADK Winery's Associate Tasting Room Manager & longtime local morning show radio host who has interviewed rock icons like Phil Collins and Def Leppard, and featuring "Name That Tune" with Adam Patten of Wild Adriatic.
Not only will we have plenty of laughs but we will also be raising money for BBBS, our festival beneficiary, who has had their fundraising greatly limited since the start of the COVID-19 outbreak. This organization is near and dear to our hearts and we hope you all can join us for this night of fun!
You can join our Live Zoom Meeting by clicking here or inserting the following link into your web browser: https://zoom.us/j/96504624836 Winner will be randomly selected at the end of the Zoom meeting!
Or you can click here on Friday, May 15th at 7pm to watch the live stream on Facebook Live!
Click here for a preview of Friday's trivia questions – No Googling! 
Big Brothers Big Sisters of the Southern Adirondacks helps local children find the path to success by pairing them with adult mentors who help them with tutoring, mental health support, experiences and so much more. They are the beneficiary of the Adirondack Wine & Food Festival, but recent events have resulted in them postponing major fundraisers this year.
Now more than ever community programs like BBBS need support. So we decided to bring the fundraisers to you! Stay tuned for more info and sign up for our Inner Circle for more information about this and other upcoming ADK STRONG Community Fundraisers!
Jackie Donovan wrapped a 25-year career in radio in 2018 to join Adirondack Winery. Our Tasting Room visitors know her as one of our liveliest personalities and love her for her wit and clever banter. You can read more about Jackie's career here:
Jackie Donovan, longtime morning radio voice, signs off to take a new career
Follow our socials to stay up to date on all things ADK Wine Fest!
Facebook | Instagram | Twitter