We are excited to report that the Inaugural Adirondack Wine and Food Festival was a great success! People came from near and far, rain AND shine, all weekend long, with an impressive 2,500+ attendees over the course of the weekend. Had the weather forecast been better, we truly believe that we would have seen upwards of 4,000 attendees.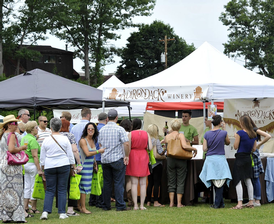 People lined up at the gates of Charles R. Wood Festival Commons to be welcomed into the very first Wine and Food Festival in Lake George. They were greeted with welcome bags and commemorative wine glasses and sent on their way to sample Wine from 35+ wineries, breweries, distilleries and gourmet food vendors. The Farmers' Market-style event allowed attendees to "try before they buy," meaning they could sample unlimited wine, beer, spirits & food in order to find and purchase their favorite products. It was overwhelming and humbling to see how many people support small, local family businesses, much like our own.
While many of the vendors were local to the Adirondack and Capital region, several of them even made their way from the Finger Lakes and Thousand Islands!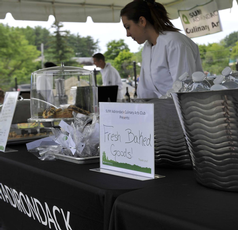 In addition to the vendors, SUNY Adirondack set up a Culinary Tent where Chef Matt Bolton and his students were performing cooking demonstrations to a full audience every hour and selling samples of their food to raise money for the SUNY Adirondack Foundation. As the official beneficiary of the Adirondack Wine and Food Festival, a portion of all ticket sales benefitted the Foundation as well. We could not have been happier with this partnership as the students not only added a unique element to the Festival, but supported us in the form of tireless volunteers.
Not only did we support local, but local supported us.  We were so grateful for the outpouring of support from local businesses in the form of Sponsorships and promotion. Thanks to presenting sponsor, Adirondack Winery and with support from the Town and Village of Lake George, Warren County, SUNY Adirondack, Black Dog Design, Mannix Marketing as well as 20+ partners and sponsors, we were able to put on a successful, first-year event that we hope to grow into a Lake George staple.
As we begin to plan for 2016, we look forward to making improvements and adding to what was already such a well-received event. We plan to include additional food vendors in the form of both food trucks and gourmet food vendors and believe that the festival can even support a few more wineries and breweries. We also look forward to the completion of the Charles R. Wood Festival Commons so that the ambiance of the space matches the beauty of the backdrop of Lake George!
Many great things are to come and the Adirondack Wine and Food Festival will only get bigger and better from here. See you all in 2016!
Cheers!